Functional
Nutritional Therapy
Most people have no idea how good they are designed to feel.
Nutritional therapy uses the powers of nutrient-dense, whole-food to reverse the negative effects of a modern diet and lifestyle.
With science-based education and evaluative tools, a Nutritional Therapist works with a client to correct nutritional imbalances and deficiencies. Working foundational allows the body to restore its incredible ability to selfheal given the right resources.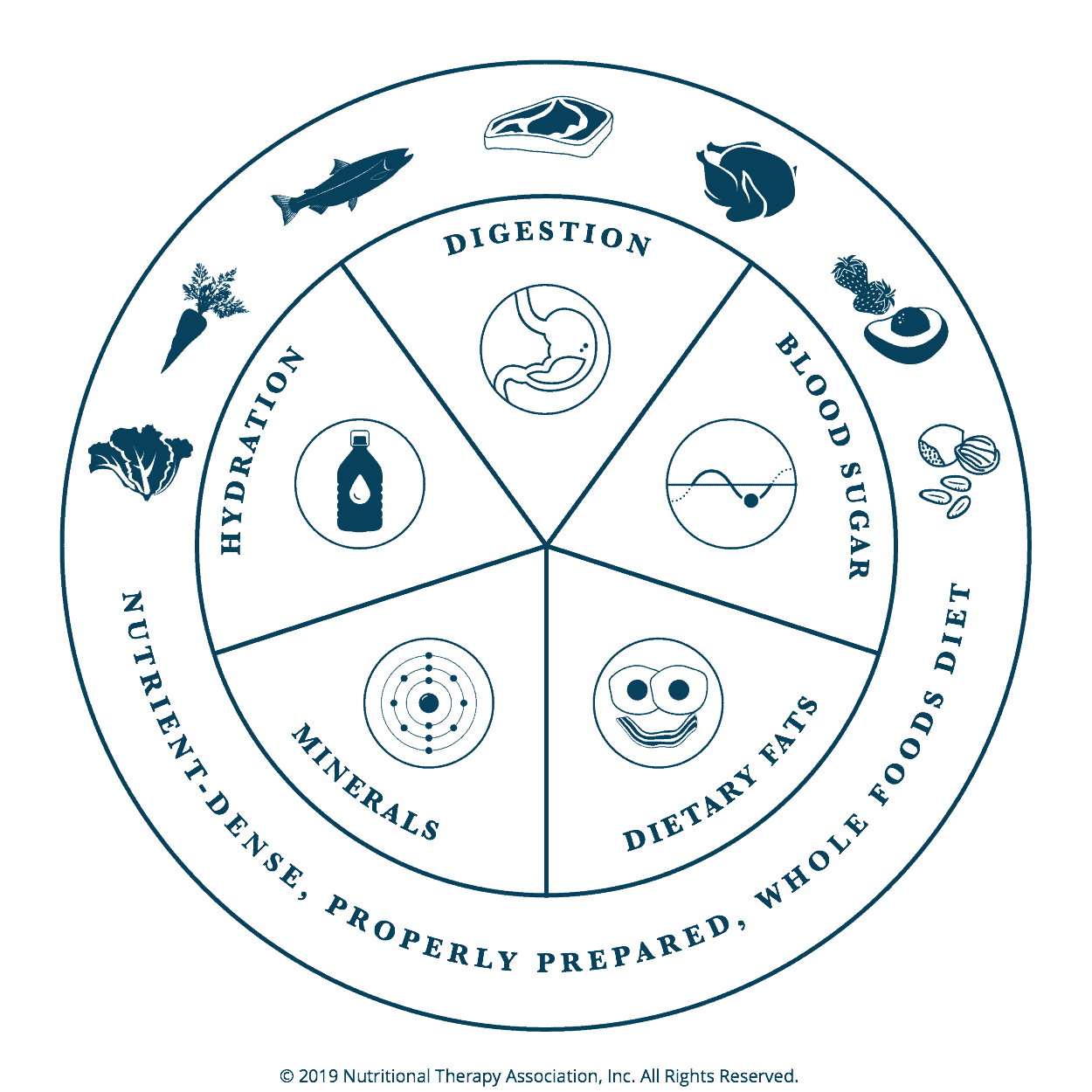 It's All About The Foundations of Health
"This illustration above is representation of how I view health and where I focus when working with clients. At the base of the foundations, is food. Properly prepared, nutrient-dense food is primary nutrition. It is responsible for supplying the body with everything it needs to function optimally. In addition, there are five important fundamental factors that form the basis of our health. They are digestion, balanced blood sugar, balanced minerals, appropriate fatty acids, and adequate hydration.
For each of these foundations, many books have been written. For many experts, it's all about digestion. When it comes to wellness, their primary focus is digestion and assimilation of nutrients. And, of course, they are right. For other health gurus, blood sugar is of primary importance. Ensuring that blood sugar is balanced is essential in order to keep our organs healthy. Yet others focus on omega 3 fatty acids and stress their importance, and minerals and water also have their authoritative advocates in the health field. The truth is that they are all correct. All of these biochemical foundations are immensely important and, together, help determine the fundamental well being of the body.
Of course these are not the issues for which most people seek help. What signals concern for most are degenerative health problems like cardiovascular dysfunction, pain, hormonal imbalances, and immune issues.
When the foundations become weak, imbalance in other body systems often occurs.
The body has a marvelous ability to heal itself, given the proper resources. This is the basis of my work. It is my privilege and honor to assist my clients in their quest for good health. If you are tired of not getting answers and want to see how amazing you can feel naturally, give me a call!"
"The body has a marvelous ability to heal itself, given the proper resources.

" - Anne Fischer Silva

What Nutritional Therapy is Not
Nutritional Therapy Can Help with
Anxiety
Brain Fog
Mood swings
Depression
Low energy
Supports the cardiac, nervous, respiratory, skeletal  and blood 
Low sex drive
Burn out  
PMS
Fertility
Healthy pregnancy
Heartburn 
Indigestion
Chronic Bad Breath
Constipation/Diarrhea
Allergies
Eczema
Diabetes
Skin breakouts/Acne
Dandruff
Hair loss 
Insomnia
Joint pain
Weight gain
Insulin resistance
PCOS
Inflammation
Frequently Asked Questions
ASSOCIATIONS & MEMBERSHIPS
Interested in working with me or have a question? I'd love to hear from you!